How To Organise A Gender Reveal Party
Knowing the gender of your baby is the second most exciting thing to finding out you are pregnant and what better way to share your joy and excitement with friends and families than a gender reveal party. Planning a gender reveal party should not stress you out so we have gathered some tips and creative ideas to make your reveal more memorable and fun. 

KNOW THE GENDER
Because that's what this party is all about. Schedule an ultrasound at around 20 weeks into your pregnancy to know the gender of your baby. During this time Sonographers might be able to determine if your baby is a girl or boy depending on it's position. If you're not 100% sure that you'll be able to know your baby's gender yet around 20 weeks then you might want to schedule the ultrasound appointment later.

If both you and your partner want to surprise everyone including yourselves on the gender reveal party, you can always ask the Sonographer to place the result in a sealed envelope. You can take the enclosed envelope to either a bakery or balloon shop where the employees open it and either fill a box full of pink/blue balloons or if you do a cake then they will either do blue or pink on the inside.

Once this step is done, you can now start planning on the fun stuff.

CHOOSE A THEME
Get creative and choose a theme that will get your guests excited the moment they step in to party. Here are some ideas for inspiration:


Harry Potter Themed Gender Reveal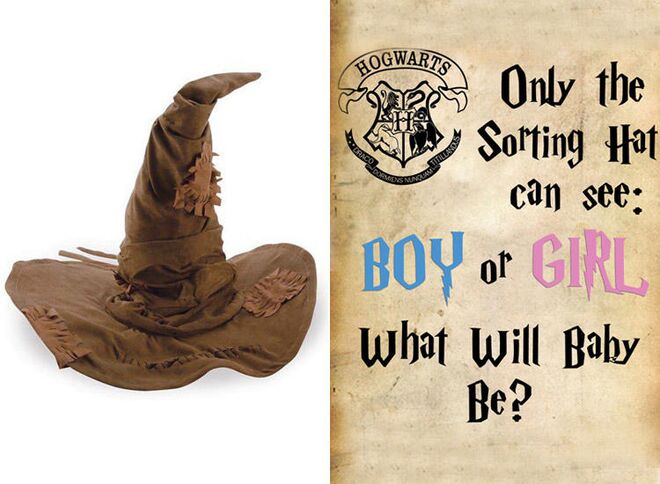 Witch or a Wizard? What will your baby be? This unique gender reveal theme will sure bring magic to your celebration. You can gather everyone around to watch as you lift the sorting hat. Underneath could be a baby shoes for a boy or girl revealing the baby's gender.

Star Wars Themed Gender Reveal
Die hard Star Wars fan? Then this very clever idea will sure get you hooked! If you are expecting a Princess Leia you can go for the pink light saber and blue if you are expecting a Han Solo. For this gender reveal theme, you can gather everyone and dim the lights, have everyone count down from 10 and you and your partner can press the button together at 1. 

Balloon Themed gender Reveal

If you want to go for a simple gender reveal party then the balloon theme is the way to go! Simply put the Balloons filled with helium gas, pink for girl and blue for boy, on a fancy box and when it's time for the big reveal, you can simply open the box and let the balloons fly out revealing the baby's gender.

Gender Reveal Piñata

For a smashing gender reveal theme go for a piñata that explodes with pink and blue confetti.
Gender reveal Water Gun Fun!
Put some action on your gender reveal party with a gender reveal water gun fun! You and your partner can wear white clothes for this celebration. Arm your friends with a water gun with pink or blue die and blast away on three. This theme is perfect when you want to take your party outdoors, say on the beach or simply at your own backyard 

Gender Reveal Smoke Bomb
For a dramatic reveal, go for smoke bombs. You can gather your friends and family around and ask someone to let loose a smoke bomb. This celebration is also perfect for an outdoor celebration and you'll have a reveal that's picture ready.

Team Boy or Team Girl
If you and your partner are the sporty type then this team boy or theme girl gender reveal theme is perfect for you. You can go for a baseball filled with blue or pink powder or you can opt for the soccer ball. Give it a good hit or a kick and poof comes the answer. 


Dance Theme Gender Reveal
Dancing is a safe and fun way to exercise during pregnancy. If you are up for a gentle dancing you might as well dance your way to the big reveal! Check this video out 




SET THE DATE
So now that you have a theme for the big reveal, it's now time to set the date! Choose a venue and pick a date. If you want to celebrate outdoors you can do it on the beach or you can have it in your background as long as you feel comfortable with the setting. Schedule your gender reveal party after you mid-pregnancy ultrasound (around 20 weeks) when the technician will be able to see if you are expecting a girl or a boy. 
GENDER REVEAL INVITATIONS
Send out invitations at least a month or two in advance. Visit our website
aspire-products.co.uk
for your
invites
and
thank you cards
that will sure match your party's theme. You can have it printed by us and delivered at your doorsteps or you can go for our digital invites and print them yourself. 
You can also add a note or special instructions to your guests.
GENDER REVEAL GAMES
Although it's normal to feel cautious during pregnancy, your gender reveal party does not have to be boring. 
Check out some of the games that will definitely liven things up!

1.) Sonogram Peek-a-boo
Allow your guests to have a peek at your sonogram picture and have them guess the baby's gender. After the reveal party give prizes to those who were able to guess the gender right.
2.) Old wive's Tale
You can now find Old Wive's Tale quizzes online. You can even make up one of your own. Those who joined can count up their points and will receive a winning prize after the reveal. 
3.) Gender Reveal Race
This game could also double as a the reveal itself. You can set up an obstacle course for two teams (pink and blue) and whoever wins gets a prize in the end and reveal the gender of the baby.
4.) He or She Balloon Pop
This game also doubles as a a game and a reveal. Black balloons are attached to a vertical cork board where the guests can pop them using a dart. Guests who are able to pop the balloon gets a prize.
5.) Gender Ball Toss
Bring out the competitors in your guests. Create 2 teams ( team pink and team blue) and have them toss a dyed ping pong ball over plastic cups with water. the 
team with the most balls in the cups wins.

PARTY FAVORS
What better way to send off your guests than a party favour and a thank you card?
Party favours could include a bag of cookies, a small mason jar filled with pink or blue goodies, a blue or pink candle or even a personalised mug. As for the thank you cards, you can checkout this link for different card designs.aspire-products.eu
Organizing a gender reveal party isn't as stressful as you think. You can get creative and you can plan it according to your own liking. What's important is you are able to share the joy of finding out what your baby will be with friends and families. Enjoy this special day.